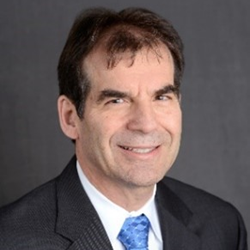 Greg Gombar
Member of CCNC, Inc. Board
Greg Gombar was with Carolinas HealthCare System (CHS,) now Atrium Health, for 34 years and as its Chief Financial Officer for 33 years. Greg joined CHS in March of 1984 as controller, and one year later was named Chief Financial Officer, responsible for overseeing the System's financial operations and government relations. He also served as CFO and Chief Administrative Officer for many years.
Mr. Gombar was part of the management team that led CHS's transformation from a single hospital of $120M to a nationally recognized $10B System that is operationally and financially strong. He played a critical role in guiding and ensuring the strength and stability of CHS which includes maintaining its double-A rating since 1984, today the highest category rating given to health systems.
During his professional career, Mr. Gombar was actively involved in a variety of professional organizations, including the Health Management Academy, North Carolina Association of CPAs, the Healthcare Financial Management Association and the North Carolina Hospital Association.
In 2015, Mr. Gombar was named CFO of the Year by the Charlotte Business Journal, and the following year, he received the North Carolina Hospital Association's highest honor – the 2016 Distinguished Service Award. Greg was the first CFO to receive this annual award since it began in 1965.
Prior to joining CHS in 1984, served as an audit manager and healthcare consultant with Arthur Andersen LLP for seven years. He received a bachelor-of-arts in accounting and management science from Duke University and was a certified public accountant until his retirement in 2018.
Upon his retirement in 2018, Mr. Gombar has move to a full-time volunteer serving several organizations, including various board and committee roles of a statewide health plan My Health by Health Providers, North Carolina Healthcare Foundation, Health Management Academy and Charlotte Christian School.
Mr. Gombar has been married to his wife Linda for over 42 years and they are the proud parents of daughter Meridith, a Clinical Nurse Leader with Atrium Health and daughter Katie, a Physician Assistant with Atrium Health.