Quality Focus: Blue Ridge Health - Polk
The Blue Ridge Health-Polk (BRH) practice in Columbus, NC, joined the CCNC Practice Transformation Network (PTN) in August 2016. In addition to being part of a multi-site practice organization in CCPN, the practice expressed a desire to work on Behavioral Health Integration.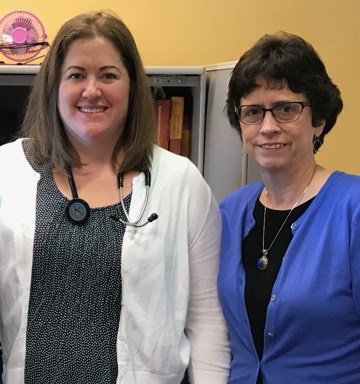 They chose two milestones: addressing the whole person in both mental and physical health and producing regular reports on how providers are performing and meeting quality goals.  
The process began with Eric Christian, CCWNC's Behavioral Health Director, administering a standardized assessment tool to show their current status along several dimensions of integrated care. Christian, Jason Butler (CCWNC Behavioral Health Associate), and Lisa Rogers (PTN Coach for CCWNC) then began to meet monthly with key staff from the BRH-Polk practice.
The BRH-Polk staff who participated in these meetings are Dr. Amy Marietta (Medical Director), Sandra McGriff (Practice Manager), Laura Ellington, LCSW, and Cindy Glowacki, LCSW.  
The practice embraced the concept of implementing integrated care, and BRH leadership strongly supported the practice with resources for the team, including staff education and information systems.  
The work for integration included: 
Developing an algorithm for patient acuity guided service components and intensity
Adding their behavioral health providers to the planning team
Creating a Run Chart for depression screening to monitor progress
Sharing screenshots from the EMR with staff to make sure data was captured correctly
Defining NQF 0418 (Screening for Clinical Depression)
Creating a depression workflow with shared decision making processes for care targets & outcomes
Using PHQ-9 score to sort patients into groups of severity and treat to target
Results
Screening for depression went from 30% to above NQF's 50% goal to a range of 53-67% between providers. The clinic's overall integration rating rose 23% in 16 months.  
Additionally, results showed an in-crease in continuity of care between primary care and behavioral health, and work being performed by the clinicians is now being captured related to screenings, which will increase revenue for the practice. Furthermore, a discussion occurs with the patient and family about the recommended treatment plan to assure understanding and increase compliance with treatment.