New Year, New Roles for CCNC Leaders
Community Care of North Carolina begins 2020 with some important changes in its governance and leadership structures. 
Bill Stewart, MD, president of Sandhills Pediatrics, Inc. and a CCNC regional medical director, is the new chair of the CCNC Board of Directors. Stewart was elected at the Board's January 8th meeting in Raleigh. 
"As a pediatrician whose practice was instrumental in the formation of the AccessCare project and as medical director for a wonderfully functioning network, I've had a front row seat for all that CCNC accomplished—amazing innovations, boots on the ground, local relationships, doing the right thing—all of which helped us become this amazing national healthcare treasure," Stewart said. "CCNC is charting a course that will allow us to sustain the best parts of CCNC, meet the needs of our very important partners at a very critical time and continue to innovate in the future."
Stewart succeeds Chuck Frock, former president of First Health of the Carolinas, who served four years as CCNC's chair. Frock will continue to serve on the CCNC Board as vice-chair. 
"Change is clearly right in front of us and is never easy," Frock said. "It's something we all experience in our own lives, careers and organizations. I've always thought change represented an opportunity for growth and success. It's been a good time to get involved with this organization—I have appreciated so much the opportunity to work with all of CCNC's board members, leadership and staff." 
Allen Dobson, MD is stepping down as CCNC's founding president. He will be focusing his attention on business and strategic initiatives, both in and out of state, and strengthening CCNC's brand expansion and marketing. Dobson will continue as CCNC's Board-appointed member of CCPN where he serves as its chairman. Dobson will remain as CCNC's chief executive officer until his retirement at the end of June.
"I'm confident we have the right leaders and our future is bright. We have everything needed to be successful and win more awards and do more innovative work – and lead the country as we have for the last twenty years," Dobson said at CCNC's employee-wide meeting in January.

Dobson speaking to CCNC employees
"As Allen articulated so well at our October Board meeting, CCNC is poised and ready to move in a new direction, building and strengthening its relationship with CCPN, North Carolina's and probably the nation's, largest clinically integrated network of primary care physicians," Frock said.  "He foresaw its potential and relevance and four years ago proposed its establishment. Today CCPN is one of our foremost business partners and many others are seeking his help in establishing a CCPN in their own state."
Tom Wroth, MD, who has served since 2018 as CCNC's chief medical officer and executive vice president, has been promoted. As CCNC's new president, Wroth will be responsible for day-to-day operations of the company and for ensuring that operational and programmatic functions are effectively implemented across the organization and that all contractual and legal obligations are met.
In this role he will oversee CCNC's ongoing work with the NC Department of Health and Human Services as its Medicaid contractor and assist the Department in transitioning to commercial managed care. He will also direct CCNC's own transformation and growth as a not-for-profit provider to the primary care community readying itself for the new value-based marketplace.
"I look forward to getting deeper into the company and working with you all. It may sound clichéd, but I feel lucky to be doing what I love to do. What could be better than that?!" Wroth said on becoming CCNC president.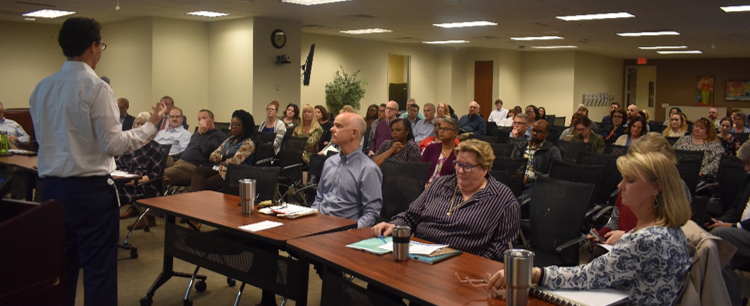 Wroth speaking to CCNC employees
Other Recent Board Actions: 
    •    Michelle Brooks, RN, MSN was elected Secretary of CCNC, Inc. and appointed to another 3-year term
    •    Thomas Bacon, DrPH was elected Treasurer of CCNC, Inc.
    •    Jeffrey Simms, MSPH, M.Div was appointed to another 3-year term on the NCCCN Board
    •    Anita Schambach was appointed to another 3-year term on the CCNC, Inc. Board