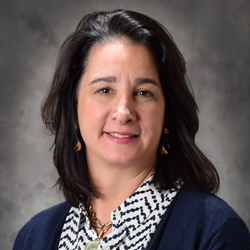 Lydia Newman, MPP
Executive Vice President &
Chief Administrative Officer
Lydia Newman is Executive Vice President and Chief Administrative Officer for CCNC. She advises senior management on strategies to establish successful value-based contracts between the provider network and payers and works to implement CCNC's payer strategy. In addition, she leads CCNC's government affairs activities and works closely with boards of directors as the chief board liaison for the organization
Ms. Newman has over twenty-five years of healthcare and public policy experience. Prior to rejoining CCNC, Newman helped to lead population health efforts for New Hanover Regional Medical Center, including serving as Executive Director of Physician Quality Partners, a Medicare ACO that successfully coordinated care, improved outcomes, and reduced total cost of care for Medicare beneficiaries. Prior to that post, she was the founding Executive Director of Community Care of the Lower Cape Fear, a non-profit network of 7 hospitals, 165 practices, and six county health departments that helped improve health outcomes and reduce costs for over 100,000 Medicaid, Medicare, uninsured, Blue Cross, and State Employee Health Plan participants. Concurrently, Newman served on the statewide board of CCNC helping to oversee CCNC's infrastructure and programs across North Carolina.
Ms. Newman has held prior leadership roles with National Governors Association's Center for Best Practices and as an advisor to the NC Governor James B. Hunt Jr. Administration in statewide initiatives supporting health, economic and workforce development issues.
Newman received her BA with Honors in Third World Studies from Trinity College in 1990 and a Masters of Public Policy from Duke University in 1994.