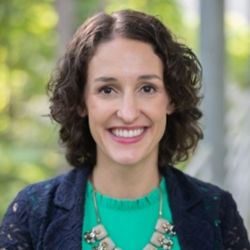 Rebecca Whitaker, PhD, MSPH
Member of N3CN, Inc. Board
Rebecca Whitaker, PhD, MSPH, is a Managing Associate with the Duke-Margolis Center for Health Policy at Duke University. In this role, Rebecca helps lead the Center's research and policy analysis related to care delivery and payment reform. She focuses on state and regional health care transformation with a particular emphasis on North Carolina's health reform activities.
Rebecca brings extensive experience in health services research, policy analysis, and program and policy implementation focused on Medicaid, social drivers of health, safety-net delivery systems, and underserved populations.
Prior to joining Duke-Margolis, Dr. Whitaker served as Director of Health Policy & Governmental Affairs at the North Carolina Community Health Center Association, where she led the Association's state and federal policy agenda and guided North Carolina health centers through large-scale payment and care delivery reforms, including Affordable Care Act implementation. During this time, she was also a Jim Bernstein Community Health Leadership Fellow through North Carolina's Foundation for Health Leadership and Innovation.