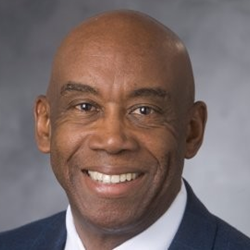 Kerry Watson
Member of CCNC, Inc. Board
Kerry Watson is a seasoned operations management executive with more than 25 years' experience in the leadership, direction and management of major hospital and healthcare organizations generating up to $1.5 Billion in revenue and employing over 9000 professionals. Mr. Watson is President of Watson Healthcare Management Solutions (WHMS) in Raleigh North Carolina, providing interim hospital executive leadership, comprehensive operational/work cultural assessment, executive coaching & expert legal consultation.
Currently, Mr. Watson is Interim Senior Vice President & Chief Operating Officer, Centra Health System, a regional healthcare system, consisting of 5 hospitals and serving over 500,000 people throughout central and southern Virginia. Prior to this assignment he successfully completed assignments as External Strategic Consultant, Facilitator and Non-Affiliated Ombudsman at Grady Health System Marcus Trauma Center, Atlanta, GA.
Additionally, Mr. Watson was Interim CEO of Memorial Health and President of Memorial University Medical Center (MUMC), Interim COO for Arnot Health and President of Arnot Ogden Medical Center, an integrated, three hospitals regional healthcare system in Elmira New.
Prior to WHMS, Mr. Watson held a number of executive leadership roles, including Assistant Vice President of Clinical Services at Holy Cross Hospital, Senior Associate Chief Operating Officer at Duke University Medical Center (DUMC), President and CEO at Duke Regional Hospital (DRH) in the Duke University Health System and President of Newton-Wellesley Hospital, part of the Partners Healthcare system in Boston, Massachusetts.
As a CEO/COO, his operational portfolio has included Heart, Orthopedic, Children's, Women's, Transplant, Neurology, Radiology & Pathology, Materials & Logistics, Hospital Facilities, Clinical Engineering, Guest Services, Infection Control, Health Information Management, Decedent Care, Support Services, Food/Nutrition, Housekeeping & Laundry, and diversity and work culture improvement programs.
In addition, Mr. Watson is a Certified Diversity Trainer, coach and facilitator, with a proven track record as a valued corporate consultant. He has facilitated leadership and diversity programs and presentations across the U.S., acting as keynote speaker at Duke University Health System; ACHE; AHRA; Charlotte AHEC; Triangle Urban League; University of North Carolina; Oncology Nursing Society; Rush University Medical System; Rush College of Nursing; Rush College of Medicine (Women's Faculty Retreat); and MedAssets Supply Chain Systems Annual Summit, among many others.
Mr. Watson began his healthcare career working at North Carolina Memorial Hospital, Chapel Hill, where he quickly advanced through management positions within Radiology, before pursuing leadership roles in hospital executive administration. He holds a Master of Arts degree in Organizational Management, a Bachelor of Science degree in Radiology Administration and Health Sciences and has completed additional post-graduate work at the University of Maryland. He is actively involved in a number of industry, community and philanthropic organizations.
A native of North Carolina, Mr. Watson resides in Chapel Hill, North Carolina, with his wife Joanne and enjoys golf, skiing, boating, fishing and jogging