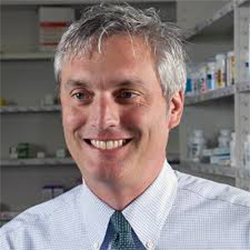 Joe Moose, PharmD
Member of CCNC, Inc. Board
An internationally recognized trailblazer in the area of innovation in healthcare delivery focused on community pharmacy, Joe Moose is a clinical pharmacist, the Director of Strategy & Luminary Development with CPESN USA, and co-owner of Moose Pharmacy and its six locations across North Carolina. Joe received his Doctor of Pharmacy from Campbell University. He serves as a primary preceptor with the University of North Carolina Eshelman School of Pharmacy Residency Program.
Joe has spoken internationally on the subjects of community-based pharmacy value and building a high-performance network of community-based pharmacies.
Joe also serves as the Lead Community Pharmacy Coordinator for Community Care of North Carolina. In this role, he has built a network of over 200 high-quality community pharmacies that strive to offer enhanced value to payers. Under his leadership, Moose Pharmacy has also partnered with the City of Charlotte and Union County, NC to oversee employees enrolled in disease management programs.
The pharmacy industry continues to recognize Joe for his impact on the pharmacy practice. He is the recipient of the Next Generation Pharmacist of the Year Award, Next Generation Entrepreneur of the Year Award, APhA Community Pharmacy Residency Excellence in Precepting Award, NCPA National Preceptor of the Year, NCPA Willard B. Simmons Community Pharmacist of the Year Award and the Bowl of Hygeia.
Joe once found a baby while duck hunting in North Dakota and it has led to his life-long passion for helping to care for others. Joe enjoys spending time on the ocean and "hanging out" with his sons, Spears and Walt.