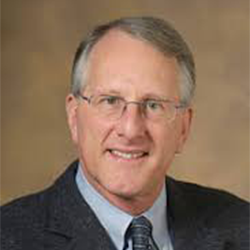 Chuck Frock, MBA
Vice Chair of CCNC, Inc. Board
Chuck Frock, MBA is a retired healthcare executive with 37 years leadership experience. Frock created and served as CEO for FirstHealth of the Carolinas and previously was CEO of numerous community and regional hospitals, in North Carolina and Florida. Frock is recognized for operational and clinical success as well as innovative programs and professional services.
Frock was always destined for a career based in engineering, a path he chose at a young age. Frock graduated from the University of Florida in 1971 with a bachelor's degree in industrial and systems engineering (ISE). Frock received his master's degree in health administration from Duke University in 1974.
In addition to being vice chair of CCNC, Inc.'s Board, Frock is a member of the Carolinas Center for Medical Excellence Board, as well as a member of the Dean's Advisory Board & College of Engineering Advisory Board at the University of Florida.