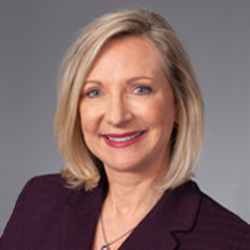 Michelle Brooks
RN, MSN
Member of CCNC, Inc. Board
Chair of N3CN, Inc. Board
Michelle became the first Chief of Staff for the Vice Chancellor, Health Sciences Division at ECU in 2018. The division includes the Brody School of Medicine, the School of Dental Medicine, the College of Nursing, the College of Allied Health Sciences and Laupus Health Science Library. As the chief advisor to the vice chancellor, Michelle provides coordination and oversight in the development of core initiatives, oversees the operations of the Office of the Vice Chancellor and is the vice chancellor's liaison to the university, community constituents and government officials. Prior to this role Michelle was the Director of Strategic Initiatives in the Office of the Chancellor . Her primary role was to serve as the external liaison for the university with local, state and national constituencies. She also served on the Chancellor's Executive Committee focusing on internal and external matters.
She joined ECU following a 30-year career at Vidant Health where she served in a variety of positions from bedside nursing to executive leadership. Before joining ECU she was the Vice President for Community Benefit and Government Affairs at the Vidant Health corporate office.
A long time resident of Greenville, Michelle is engaged in a variety of local and statewide professional and civic activities. She is currently on the board of Community Care of North Carolina and NC Community Care Networks, Inc where she serves as chair. She is involved locally on the Greenville-Pitt County Chamber of Commerce Issues Committee and is active in her church and other community organizations.
Michelle obtained a Bachelor of Science degree in Nursing from the University of North Carolina at Chapel Hill in 1983. In 1992, she received a Master of Science in Nursing from East Carolina University. Michelle lives in Greenville with her husband, Dr. Clyde L. Brooks, Jr. They have 5 children and one grandchild.